Preserving the Night
Our commitment to protecting dark skies
The Ann & Sandy Cross Conservation Area is a Nocturnal Preserve, the first of its kind in Canada. In 2015, we approached the Royal Astronomical Society of Canada (RASC), a Canada-Wide collective of individuals passionate about astronomy and protecting dark skies, who created and gave us our designation.

RASC's Dark-Sky Sites Program recognizes sites "that are contributing to the reduction of light pollution, educating the public about dark skies, and liaising with municipalities to improve lighting legislation." As a Nocturnal Preserve we are committed to protecting nocturnal habitat and educating our community on the negative impacts of light pollution and the importance of dark skies.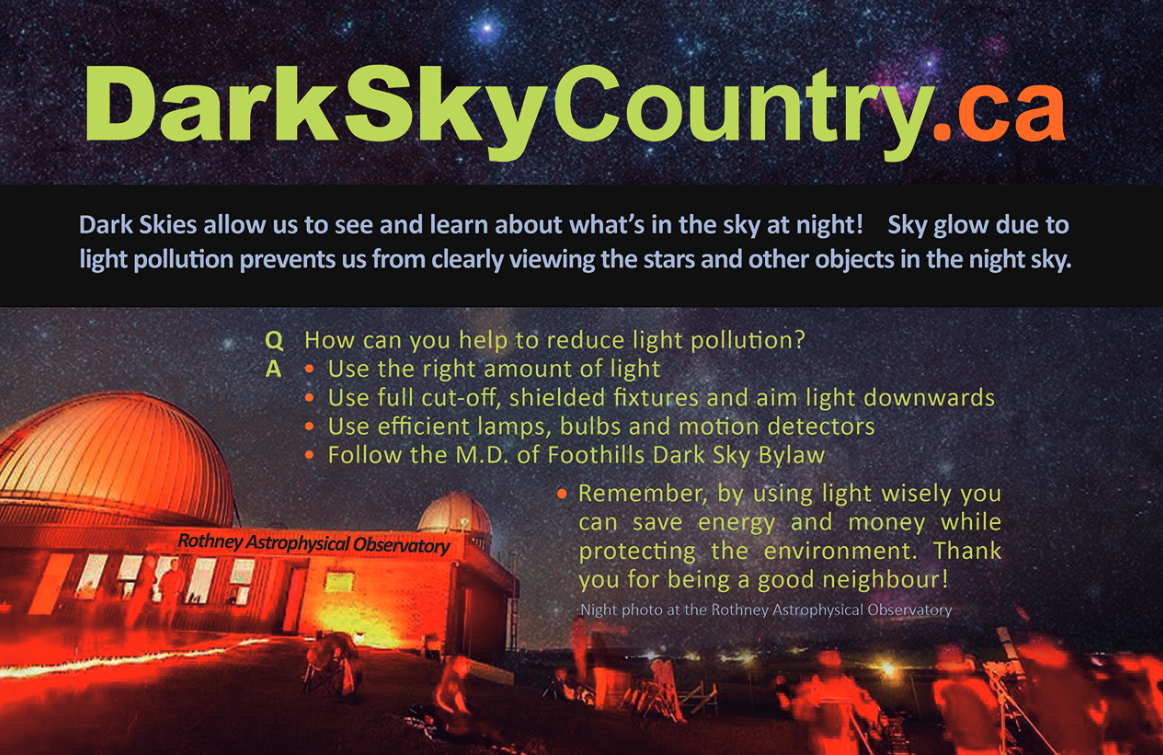 The ASCCA is part of the Foothills Dark Sky Awareness Committee. Members of this committee include Foothills County, Rothney Astrophysical Observatory, and Royal Astronomical Society of Canada Calgary Centre. Our objective is to spread awareness of the importance of dark skies as we educate our community on the value of dark sky friendly communities.

Our Dark Sky Country Initiative aims to provide information to our Foothills neighbours on Dark Skies. A Dark Sky Bylaw exists within the county to outline a framework for light pollution free communities. Our goal is to inspire others to limit the amount of light they use at night, use only the light they need, and use lighting in a responsible manner. The negative impacts of light pollution have spread to both humans and wildlife.
Join The Dark Night
Resources for protecting Dark Skies
There are many ways that you can get involved with protecting dark skies, from making changes at home and in your community, to getting to know organizations that do important work in conserving the night. Small actions such as using less light at night and changing outdoor fixtures can make a big difference.

The International Dark Sky Association has inspired a global movement to combat light pollution, and is dedicated to sharing resources and finding solutions to slow light pollution and reverse its impacts. Learn more by visiting https://www.darksky.org/ and become a dark skies advocate.

You can also become a citizen scientist with the Rothney Astrophysical Observatory and help to gather data that will be analysed and shared to hopefully impact decisions made on lighting in our communities https://science.ucalgary.ca/rothney-observatory/community/citizen-science.

International Dark Sky Week happens every year in April, with related events going on year-round. Discover events, learn about how you can take action and spread the word about protecting dark skies by visiting https://idsw.darksky.org/

As a Nocturnal Preserve we often host events such as Lunar Walks and Star Nights. Sign up for our newsletter and follow us on Twitter and Facebook to stay connected.