If you have visited the Ann & Sandy Cross Conservation Area recently, you may have noticed work being done on our trails. As part of an agreement with a filming production that occurred in the area, a new trail was created to the east of a former steep sloping section of Fescue Trail, directly east of our education centre, Belvedere House.

In order to allow this steep and heavily eroded section of trail to be reclaimed, we have closed access to the section and ask hikers to use the new Fescue Trail, pictured below. Fescue Trail can no longer be accessed from the trails west of Belvedere House, but instead from a new trail heading east from the building, past our staff and volunteer parking lot.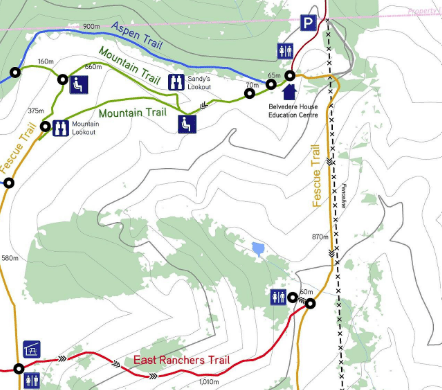 Along with this change our Welcome Kiosk has been moved to the east end of our visitor lot, and we encourage hikers to use this new point of entry. This had been done to direct hikers away from the road up to our building, which is ideally meant for vehicles. From this point, hikers can continue south to use the new Fescue Trail, or head west towards our building to access the trail-heads of Mountain and Aspen Trail.

Our trail map has also been updated to reflect these trail changes. Notably, our new map includes West Ranchers Trail, a shortcut to Paradise Trail and our West Side Lookout. This change has been made as we noticed hikers naturally using this route as a faster way to get back from Paradise Trail.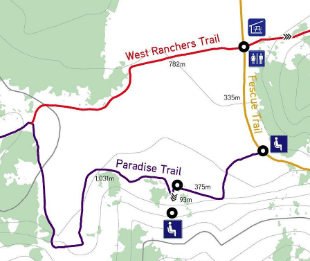 If you have any questions or concerns about updates to our trail system, please contact Greg Shyba at (403) 931-4070, or email [email protected]. Our new trail map can be viewed and downloaded here.